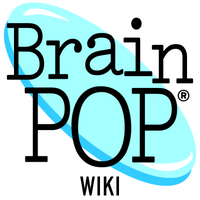 BrainPop
(styled
BrainPOP
) is a group of educational websites with over 1,000 short animated movies for students in grades K-12 (ages 6 to 17), together with quizzes and related materials, covering the subjects of science, social studies, English, math, engineering and technology, health, and arts and music. BrainPop is used in more than 20% of U.S. schools and also offers subscriptions for families and homeschoolers. It is also used in schools in Mexico, France, Spain, Israel and several other countries, where it offers videos in local languages that are designed for students in those countries. BrainPop is available by subscription but has some free content, including a movie of the day, several free movies from each topic area, educators materials, including lesson plans, and an extensive library of educational games called GameUp. Its free smartphone and tablet application accesses BrainPop's free and subscription content.
The videos and other materials are designed to engage students and assist teachers and home schoolers; they are aligned to state education standards. Most of the videos feature the characters Tim and Moby. In addition to BrainPop.com for older children, the company offers BrainPop Jr. for younger children (grades K-3), BrainPop Español, BrainPop Français, BrainPop ELL for non-native speakers learning English, BrainPop Educators, a free site for teachers and parents to post materials and interact with BrainPop and each other, GameUp and My BrainPop, a tool for students and teachers to record learning accomplishments. The sites are owned by FWD Media, Inc. and its affiliates, based in New York.
Main Characters
Episodes
External Links
Community content is available under
CC-BY-SA
unless otherwise noted.