Fitness

Airdate
June 15, 1999
Curriculum
Health
Fitness launched in BrainPOP Health June 15, 1999.
Characters
Cassie (Exercise movie only)
Summary
Tim answers a letter. He has to go running, so he tells Moby to show us the film. The next 2 minutes features "Exercise, Fitness and YOU!", a cheap-made short film. However, Moby does NOT realize that Tim is doing fitness. In the end, Tim is running.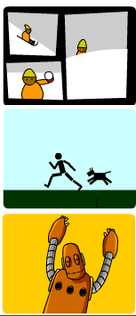 Transcript
Quiz
Quotes
Tim: Uh, I got to go running, but watch this film!
---
Voice #2: This message is brought to you by BrainPOP. ["The End" appears on-screen and Tim is jogging. The word, "Meanwhile" appears above him.]
Trivia
This short film in the movie is sort of like a 50s film.