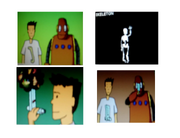 In 1998, immunologist Dr. Avraham Kadar and animator Mike Watanabe created "Tim & Moby", two animated shorts about peak flow meters, and your skeleton for Dr. Kadar's website.
Dr. Kadar created BrainPOP to explain the complicated science behind conditions such as asthma to young children. To him, animation was the best way to communicate these ideas to his patients.
In 1999, BrainPOP got its own website, but the videos remained on Dr. Kadar's website until at least 2005. Eventually, his website was taken down, and all of the videos are now hosted on BrainPOP.
Shorts
Trivia
The old version of Peak Flow Meter is the only BrainPOP episode with a rhyming scheme throughout the entire movie.
Related Reading